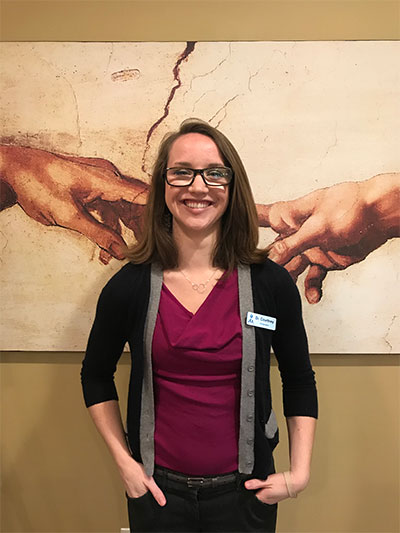 I was born and raised here in Kalamazoo, MI. I graduated from Plainwell High School in 2008. Growing up, I was very active. Early on, I was a competative gymnast and in high school I was involved in competative cheerleading and running track. Throughout my time as a young athlete, I experienced musculoskeletal pain as well as other symptoms of a poorly maintained spine and nervous system. I started under Chiropractic care when I was 10 years old and saw an improvement in my quality of life as a result of this care.  
After graduation I studied pre-pharmacy at Wayne State University. Then returned to continue this career path at Kalamazoo Valley Community College for the next two years. During this time, I decided that pharmacy was not the right fit for my active and interactive personality and lifestyle. However, I did not know what the right fit may be.  
My older sister, a teacher, was living out in Washington State and offered to have me come live with her and her husband to gain perspective and figure out my next move. While there I fell in love with the mountains. It was while I was working as a lift attendant at a local ski resort that my path as a chiropractor was outlined for me. A regular through my lines at the resort took an interest in chatting with me as we were waiting for the lifts to open. This man was a retired Chiropractor in town and informed me that I would make an excellent Chiropractor. With this, I researched, looked back on my past, and decided that this was what I was meant to do. I finished up the pre-requisites for enrollement at the fountainhead of Chiropracic, Palmer College of Chiropractic in Davenport, IA.  
I graduated from Palmer with my BS and DC, February of 2017. After graduation I moved back out to Washington to work as anassociate in a small tourist town and as an Independant Contractor in the large town nearby.  
As a mother of an infant with busy sisters nearby, I had a difficult time balancing the many hats that I was attempting to wear so far from my large support system here in Michigan. It was a bittersweet decision to uproot my son Malakai and I from the valley in Washington to come home. But, we are looking forward to re-establishing the roots that are firm here and going back to vacation in my beloved mountains.  
I am very excited to serve this community through the wonderful team here at Soldano Family Chiropractic Center and improve the quality of life for you and your loved ones for years to come.
Yours in health,
Dr. Courtney Bumgarner